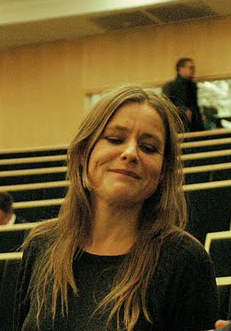 Ulrika Karlsson servo stockholm
Ulrika Karlsson is a partner and founding member of servo stockholm. Karlsson received her Architecture degree from Columbia University (MsAAD) and her Landscape Architecture degree from the Swedish University of Agricultural Sciences (MLA). Karlsson has lectured internationally and contributed to journals including Arq, Perspecta, Via, and AD. She is a professor in architecture at KTH School of Architecture, with a focus on digital methods and tools, where she teaches graduate design studio and seminars, and where she served as the Director of the Architecture program 2009-2012. Between 2013-2018 Karlsson was also a professor at Konstfack, University of Arts Craft and Design, Stockholm, and has been visiting faculty at Bartlett, UCL, London and taught at UCLA's Department of Architecture and Urban Design.
Karlsson together with her colleague Marcelyn Gow (servo los angeles) were recipients of a 2012 Grant to Individuals from the Graham Foundation for Advanced Studies in the Fine Arts. Karlsson has pursued design research financed by the Swedish Research Council, Prototypes for Performative Design, was part of the Architecture In the Making Strong Research Environment funded by Formas, and was recently granted funding from the Swedish Research Council for the project Interiors Matter: A Live Interior. KTH School of Architecture, through Ulrika Karlsson as project manager, is an academic partner of the research network InnoChain - Building Innovation in the Extended Digital Chain, that has received a grant from EU's Marie Skłodowska-Curie Actions programme under Horizon 2020.
Prior to establishing servo Karlsson worked in the office of Greg Lynn Form, Hoboken. In 2016 Karlsson founded the Stockholm based architecture practice Brrum (www.brrum.se) together with Cecilia Lundbäck and Veronica Skeppe.




Veronica Skeppe servo stockholm

Veronica Skeppe is an architect and a partner of the research and design collaborative servo Stockholm. She is a lecturer in architecture at KTH School of Architecture and has worked as a guest teacher at the Interior Architecture and Furniture Design programme at Konstfack, University College of Arts, Crafts and Design. She received her Architecture degree from KTH School of Architecture (MArch 2013) and has also studied at the Staatliche Akademie der Bildenden Künste in Stuttgart. In 2016 Skeppe founded the Stockholm based architecture practice Brrum (www.brrum.se) together with Ulrika Karlsson and Cecilia Lundbäck.

Deprecated: Function eregi() is deprecated in /storage/content/32/107332/servo-stockholm.com/public_html/ndxz-studio/lib/statistics.php on line 182 Deprecated: Function eregi() is deprecated in /storage/content/32/107332/servo-stockholm.com/public_html/ndxz-studio/lib/statistics.php on line 182 Deprecated: Function eregi() is deprecated in /storage/content/32/107332/servo-stockholm.com/public_html/ndxz-studio/lib/statistics.php on line 182 Deprecated: Function eregi() is deprecated in /storage/content/32/107332/servo-stockholm.com/public_html/ndxz-studio/lib/statistics.php on line 203 Deprecated: Function eregi() is deprecated in /storage/content/32/107332/servo-stockholm.com/public_html/ndxz-studio/lib/statistics.php on line 203 Deprecated: Function eregi() is deprecated in /storage/content/32/107332/servo-stockholm.com/public_html/ndxz-studio/lib/statistics.php on line 203 Deprecated: Function eregi() is deprecated in /storage/content/32/107332/servo-stockholm.com/public_html/ndxz-studio/lib/statistics.php on line 203 Deprecated: Function eregi() is deprecated in /storage/content/32/107332/servo-stockholm.com/public_html/ndxz-studio/lib/statistics.php on line 203 Deprecated: Function eregi() is deprecated in /storage/content/32/107332/servo-stockholm.com/public_html/ndxz-studio/lib/statistics.php on line 203 Deprecated: Function eregi() is deprecated in /storage/content/32/107332/servo-stockholm.com/public_html/ndxz-studio/lib/statistics.php on line 203 Deprecated: Function eregi() is deprecated in /storage/content/32/107332/servo-stockholm.com/public_html/ndxz-studio/lib/statistics.php on line 203 Deprecated: Function eregi() is deprecated in /storage/content/32/107332/servo-stockholm.com/public_html/ndxz-studio/lib/statistics.php on line 203 Deprecated: Function eregi() is deprecated in /storage/content/32/107332/servo-stockholm.com/public_html/ndxz-studio/lib/statistics.php on line 203 Deprecated: Function eregi() is deprecated in /storage/content/32/107332/servo-stockholm.com/public_html/ndxz-studio/lib/statistics.php on line 203